There is more to keeping winter drivers safe than salting and sanding the roads. Sometimes, our Dawson Road Maintenance crews go vastly above and beyond when it comes to keeping members of the communities they serve safe.
Grant Gray was out plowing his regular route along Loon Lake Road in Service Area 16, 10 days before Christmas. Snow had fallen and the Plow Truck Driver was out clearing the 14-kilometre stretch of highway.
A truck driver with Dawson since 2008, Gray knows Loon Lake Road quite well. The highway is windy, has steep banks running down to the water and constantly has a variety of wildlife poking their heads out of the bushes.
On his first pass of the lake, heading east, it was business as usual.
"I didn't see anything heading out there. On my way back, I noticed some skid marks that swerved off the road. I slowed down to check it out and I could see a car in the lake," said Gray, who's son, Rob, has been a Superintendent with Dawson Civil since 2015.
Gray ran down the embankment, calling out to the car in hopes to hear a reaction. The car was flipped upside down, not too far off the shore with the front half of the vehicle submerged.
"Once I got closer, I could see someone struggling to kick the driver's window out. I quickly looked around and found a rock big enough to smash one of the windows and help the woman exit the vehicle," said Gray. "She was cold, wet and very scared."
Gray estimates that the woman was trapped in her vehicle for anywhere up to 25 minutes, as he figures the car – which swerved to avoid a deer on her way home from work – went into the lake shortly after he initially passed that section with the plow.
He assisted her up the slope and into his plow truck. He notified his Supervisor, Kitty File, and Chris Mozel, an operator in Clinton about the incident. He then proceeded to drive the woman to her house, which was nearby.
The couple heavily thanked Gray for his heroics, before he headed back to the Ashcroft shop.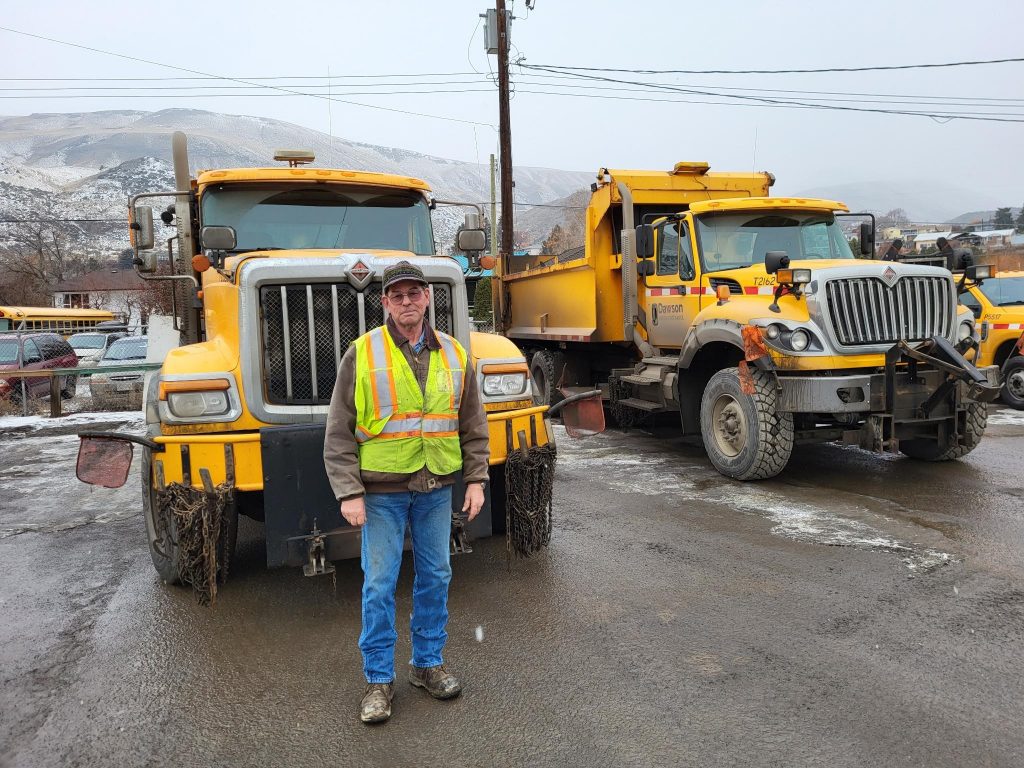 Gray, understandably, was slightly shaken up by the event.
"It was a scary sight when I first got there; I didn't see any movement. In road maintenance, you always want to do what you think is right. Looking back at it now, I didn't realize how dangerous the situation could have been. I am very thankful that everything turned out relatively well," said Gray.
It was a bit of déjà vu for Gray, who 14 years ago, experienced a similar situation when he was patrolling Highway 99 near Timian Creek.
A truck was driving towards him when it turned a corner and lost control over a patch of ice, sliding over the side of the road.
Gray safely pulled over, made his way down the slope and began talking to driver, making sure they were OK and able to move on their own. This time, the driver could exit the vehicle, as Gray helped the driver climb the steep bank. He let the driver warm up and calm down in his truck while they waited for emergency crews to arrive.
"You never want to see anyone in those situations. But I have been very fortunate that neither one of those situations had anyone severely hurt," said Gray.
Dawson Group is extraordinarily proud of Gray for rescuing citizens from extremely dangerous situations.
Gray's experiences can serve as a reminder of some of the stresses we can be put through in the line of work. Dawson Group would like to remind everyone of the free and confidential Employee Family Assistance Program, available to all employees and their families, if they ever need someone to talk to.